SELECT DISTINCT shop_view_active_item.*
							FROM shop_item_has_category
							  INNER JOIN shop_view_active_item ON (
							    shop_view_active_item.company = shop_item_has_category.company AND 
							    shop_view_active_item.shop_code = shop_item_has_category.shop_code AND 
							    shop_view_active_item.language_code = shop_item_has_category.language_code AND 
                                    ( 
                                      shop_item_has_category.item_no = shop_view_active_item.item_no 
                                    )
							    )
							  
							  WHERE (shop_item_has_category.category_line_no = 97500 OR shop_item_has_category.category_line_no = 97500 )
							  AND shop_view_active_item.language_code = 'ENU'
							  AND shop_view_active_item.company = 'DESOI'
							  AND shop_view_active_item.shop_code = 'B2B'
							  AND shop_item_has_category.company = 'DESOI'
							  AND shop_item_has_category.shop_code = 'B2B'
							  AND shop_item_has_category.language_code = 'ENU'
							  AND shop_item_has_category.category_shop_code = 'B2B'
							 

Injekciós eljárás homogén falazaton
A kiválasztott injektáló anyagot a szerkezeti elemnek megfelelő, folyamatos nyomással (3-5 bar) juttatjuk be a fúrt injektálócsonk segítségével a szerkezeti elembe. Fontos az injektálóanyag viszonylag egyenletes eloszlása annak biztosítása érdekében, hogy megfelelő hatásterület alakuljon ki. A szerkezeti elem feltételeitől függően a befecskendezési nyomást hosszabb ideig kell fenntartani (pl. injektálócsonkonként néhány percig).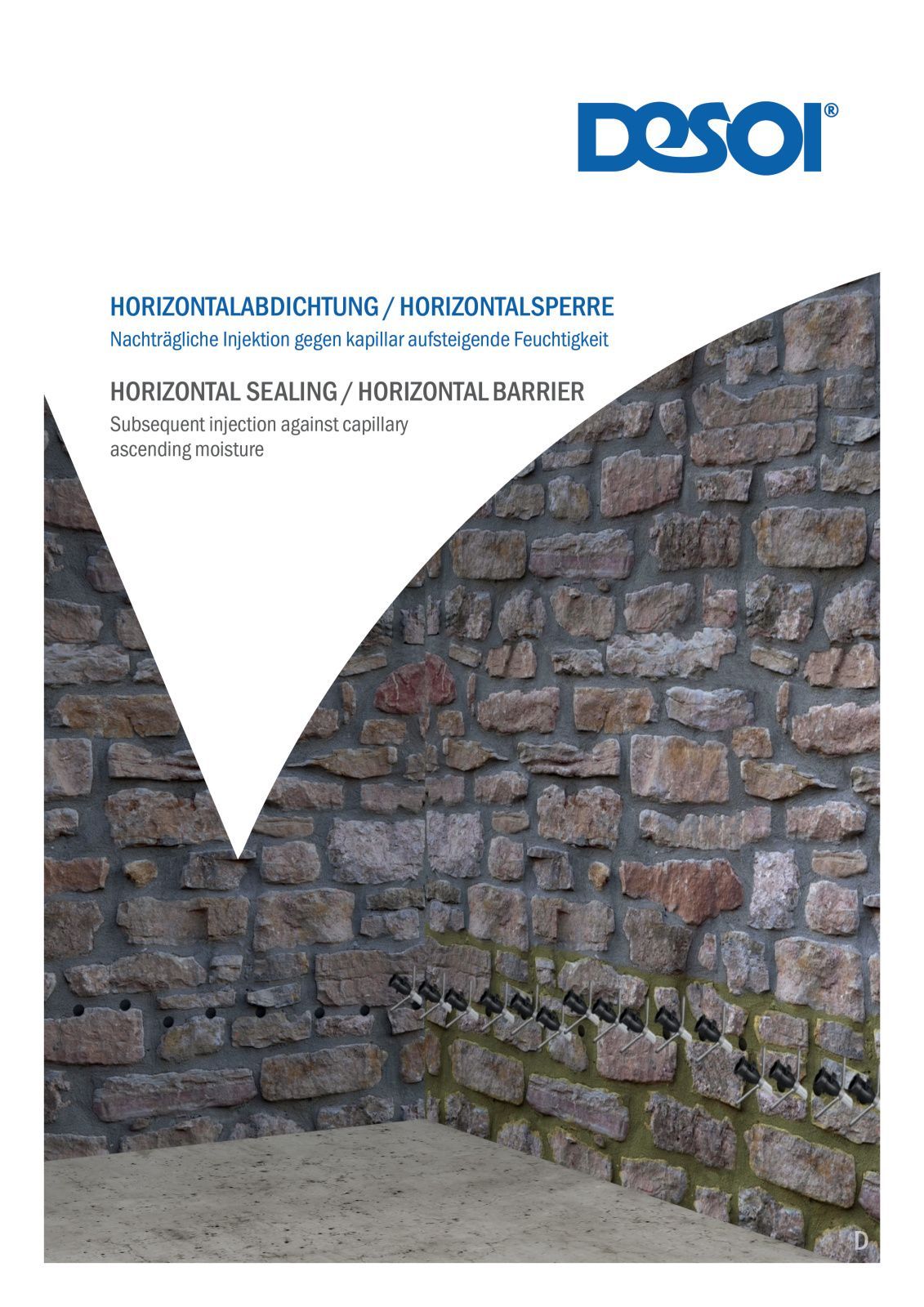 Töltőanyag és injektálás a következők esetén:
homogén falazat
Mikroemulzió injektálása (2. szint)

Vízszintes szigetelés létrehozása a nyomás- és felgyülemlett víz vonala fölött
homogén téglafalak alacsony lúgossággal és 80% -nál nagyobb átnedvesedéssel
Mikroemulzió injektálása ("nedves a nedvesen" módszer - 2. szint; Vízszintes szigetelés létrehozása
Az aktivátor utólagos befecskendezése a mikroemulzió aktiválásához (3. szint)
Töltőanyagok
Szilikon- és mikroemulzió
Szilifikáló oldat
Sziloxán alapú injektálószer
Akrilátgél
Előnyök
Falmegerősítés és -stabilizálás az injektálási területen
Kevesebb kiegészítő szükséges, pl. kisebb mértékű a fúrókopás és kevesebb injektálócsonk szükséges
Folyóméterenként rövidebb munkaidő
Előnyök - Akrilátgél
A reakcióidő lejárta után azonnal kifejti hatását
Injektálócsonk-típusok
Fúrt injektálócsonk (acél)
Beütő injektálócsonk (műanyag)

1. Jelölje meg a furatokat egymástól kb. 10 - 12,5 cm távolságra egysoros furatsor esetén! Többsoros furatsor esetén kb. 8 cm magassági eltolást kell alkalmazni. A furatok közötti távolság az építőanyagok nedvszívó képességétől függ. Fúrja ki a furatokat (legalább egy vízszintes fugán fúrjon át) és távolítsa el a fúrástól keletkező port!

2. Vezesse be a lamellás beütő injektálócsonkot egy behelyező szerszám segítségével
Előnyök Rendelési szám: 31710, 31753: Az injektálócsonkot nem szükséges kivenni, a csonk bent maradhat az épület elemben, azonnal kezdődhet a vakolás
3. Fecskendezze be és zárja le!
Indítsa el a befecskendező készüléket a kezelési útmutató szerint!
A furatokat kb. 2–5 bar befecskendezési nyomással kell befecskendezni (a szerkezeti elemtől függően)
Verje le vagy távolítsa el az injektálócsonkot!
Zárja le a furatokat!